AUG 03 This was the fun part. I bought some CAD software, read the book and spent six months designing, redesigning and tweaking the plan. Finally happy, I worked out that the cost of the house would be hopelessly prohibitive, so started again (losing the swimming pool, triple garage etc).

Eventually, having scaled the house to the size of the plot, I contacted the most respected (read expensive) architect in the Highlands and asked him to look at the plans and give me his professional opinion. The fact that he kept a straight face went a long way to convincing me that he should be the technical adviser / nanny (as, at that time I had absolutely NO idea how to build a house). Because of this I spent many hours trying to locate and employ a project manager - but there are certain things one cannot do in the north west Highlands, and one of them is find project managers. I was thus duly and reluctantly promoted.

MAY 04 I then had to find a company that could supply the logs. As I saw it, there were two ways to go. Scandinavian pine or Canadian red cedar. The cedar had the benefit of resisting wood boring insects and not needing treating, but was more expensive, a lot more to transport to Scotland, very heavy and looks a bit 'lumberjack' for my tastes. The 'polar' pine wood grown in Lapland is NOTHING like what you might find for sale in B&Q (much slower growing, very dense and hard wearing, and as a company called Sustainable Buildings

was importing kits with a life expectancy of hundreds of years, I decided this was the best option.
(Techie bit: skip if you know or are not interested) Completed designs are converted into AutoCad files, sent by e mail to Scandinavia, where a Finnish company (Sustainable Buildings use ArticHouse

) price the kit and point out any design or production issues. Once they have the go ahead from the client (and half the money) they simply press the 'GO' button and the factory cuts and numbers all the logs which are then automatically sorted ready to be packed and shipped to wherever. If the customer is not going to build the kit themselves, Finnish workers (in groups of two) who are used to constructing these kits can be hired to fly over and 'join the numbers' - a bit like a giant Lego kit.
Back to the story: Below are the final floor plans at the time of the build. Click on either of the plans to see larger versions.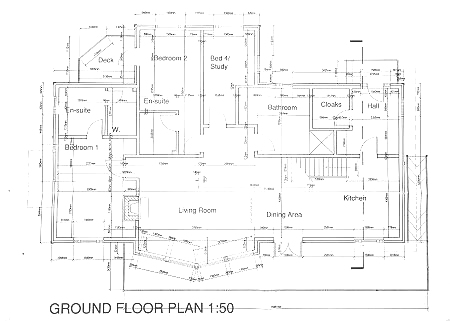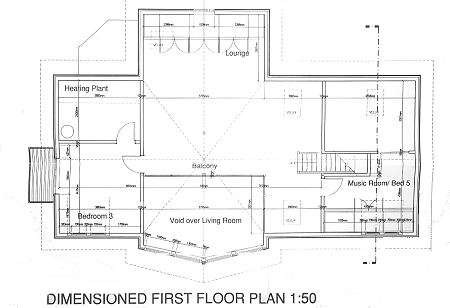 The design started with my main desire to have a huge wall of glass (two floors high) that faces the loch. Behind that would be a 'mezzanine' with a lounge looking down onto the living room. This open plan living area (incorporating kitchen and dining areas would be flanked by glass patio doors for access to decking and even more view.

The downstairs would also have 3 bedrooms (2 en suite), a hall, boot room, main bathroom and an inbuilt garage with utility (dropped due to planning objections).
Upstairs as well as the lounge there would be a further 2 bedrooms (one of which to be my music room with sound proofed isolation room off). There would be a brick chimney for open fire and the whole house was to be air conditioned (you can't open windows in the Highlands in August due to midges) See above and below.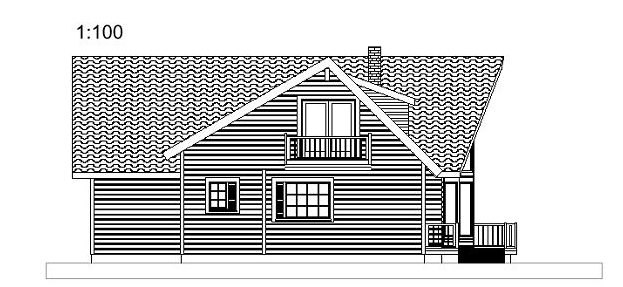 side elevation
To keep the overall height of the building down below the tree line (so that it can't be easily seen from the other side of the loch) I designed in a 45 / 30 degree angled roof for the main east west part of the building (with dormer windows). See above.
JUNE 04 The next YEAR was spent trying to get planning permission. This was always going to be tricky. Building a five bedroom house in one of the few remainig bits of ancient Caledonian pine forest in the Highlands would be completely out of the question these days - it was only that there was a small chalet already there that meant I had a chance. It actually became a very, very tedious game. Surprisingly, the objections included "What colour will you paint it?", "There is too much glass, it will cause reflections and glinting on the other side of the loch" (it faces out to sea) and my personal favourite... "Will you be planting any trees?" DOH!
JUNE 05 Planning permission was however eventually granted (to the surprise of the Architect who only then told me he didn't think I'd ever get it). I did however, have to revert to the original garage/utility and also lost a few square meters of glass (so no dolphins with torches will suffer any 'glinting').
Top Tip: If you are ever building a new house - make your plans too big and too grand, then you can bring them down to the size you intended in the first place and the planning officer thinks they have done a good job and gives permission.