18th July 2006

The good news:

The heat pump and kitchen are being installed, the wood floor will be finished in the next couple of days, most of the electrical switches and sockets are in, the fireplace is going in next week, we've ordered carpets, telephone connection and broadband from BT, and HD Satellite.

The bad news:

Our tiler has gone a.w.o.l. (What is it with tilers?) If he doesn't arrive we won't have a toilet when we move in (as the tiled floor must go in first). (Edited on 19th to add: Have heard that the tiler's son is in hospital, so an understandable delay - he hopes to start 31st July... as do I).

Still... progress - and some photos:

People being eaten by midges installing a geothermal heat pump. (In case you ever wondered.)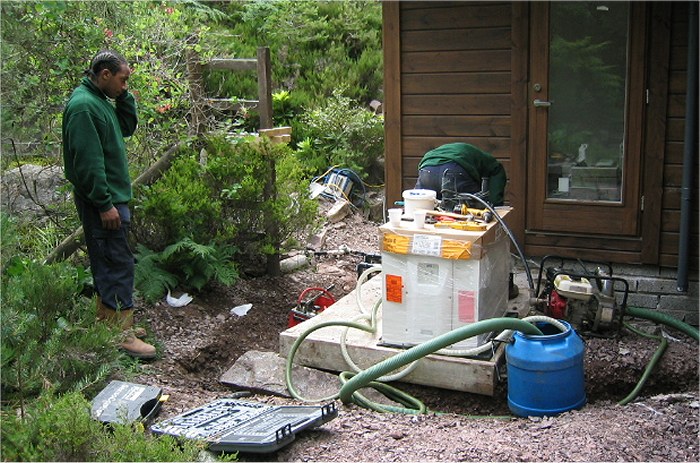 Kitchen being installed with large blue saw.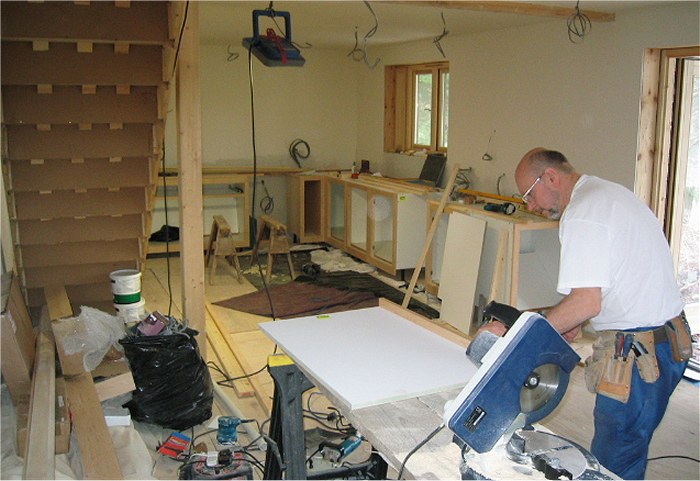 Andy and John in unusual pose (not working), standing on new build 'green wood' shortly to be 'brown wood' balcony.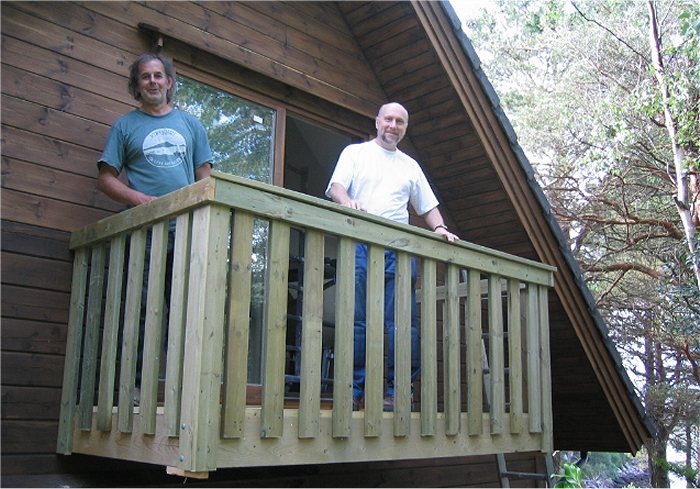 19th July 2006
We are having a bit of a spat with the building regulation people, and are trying to get them to see things from our point of view. This is a bit like saying were are head butting a brick wall and hoping it'll give way first.
We want to use 'Osmo'

on internal wood surfaces. It's a 'green', safe, ecological wax oil that will protect and feed the wood. It's also non toxic, easy to apply and looks great.
Unfortunately, if you put a blow torch on it for half an hour the wood underneath will start to burn. The fact that every other country in the world will allow it and that it has a flash-point similar to the surface of the sun doesn't seem to satisfy the building regulation officer for the Highlands.
So it looks like we'll have to use toxic, non organic, smelly, carcinogenic varnish instead.
But at least we can now use the blow torch on the ceiling in the certain knowledge that we'll get another minute or so before the roof explodes into flames causing certain death.
19th July 2006 (addendum)
I've just received an e mail regarding the cost of using the toxic, non organic, smelly, carcinogenic varnish (to coat the ceiling ONLY):
" The approximate surface area of the ceiling is 135sqm and therefore my guess is that you will need 9 tins @ £75.60 of base and 6 tins @ £36.60 of top seal."
= £863.40 plus VAT, plus £48 delivery, plus (I guess) 15 hours labour ....for a coat of varnish

And... Building regulation officers are not interested in rooms that have wood ceilings or walls if the rooms are under 25sqm in size. So we can coat the rest of the house in Osmo if we like. In fact, we can liberally apply nitroglycerin or napalm - and there won't be a problem with building regs.
I had no idea that fire was so selective. It obviously has no intention wasting it's time on insignificant rooms full of fuse boxes, heating equipment, jerry cans full of Optimax, racks full of clothes etc. It only goes for rooms with posh ceilings six metres tall...
...just in case somebody climbs a very tall ladder with a blow torch - for half an hour.
21st July 2006
It's just been reported on the radio that the Queen has chartered the 'Hebridean Princess' (pictured below at the bottom of the plot) and is taking her extended family (yes, all of them) cruising up the Highland west coast & islands.
Personally, I think she's been reading my blog and wants a look see.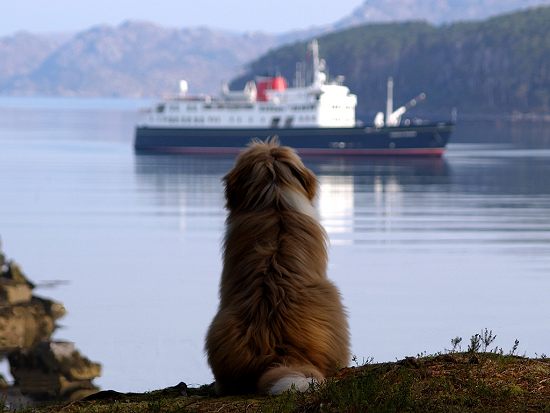 24th July 2006
One month to go... and here (supplied by the Bruce) is the way it has to work (or we're in the tent).
Assuming this flow chart flows (odds anyone?), we'll be in exactly four months late, and a long wheel base Ford Transit load of cash over budget.
25th July 2006
Back to that neighbour with the helicopter... (sorry to be off topic once again) We blagged Iona a ride today - I've already decided to paint a big 'H' on our newly designated helicopter landing pad in Scotland.